Welcome to the West Alabama

Fiber

Guild

Newsletter
Happy Independence Day!
Next meeting:
Sunday, July 3, 2016, 1:00 pm to 3:00 pm
Location: 1000 28th Avenue, Tuscaloosa
Topic: Silk Cocoons
Carol will show us how to unreel silk cocoons. This will be a hands-on project and an opportunity to learn about the origin of silk
fiber
. All supplies will be provided.
Last meeting:
Sunday, June 19, 2016
Topic:
Spinning Sunday and Continuing
Tatting
Ten members were present. We enjoyed tatting, knitting, crochet, spinning, and twining. Knitting was definitely the most popular activity at this meeting with three pairs of socks, a baby sweater, a scarf, and a washcloth in progress.
Crocheted Baby Blanket by Sue J.
Popsicle Yarn --

fiber

dyed with popsicles and hand spun by Jennifer C.
Novelty Yarn Scarf knit by Nan G.
Socks in Progress, knit with Knit Picks Hawthorne tonal yarn by Tori S.
(with awesome needle holder, made by her husband on a 3D printer)
Nan G.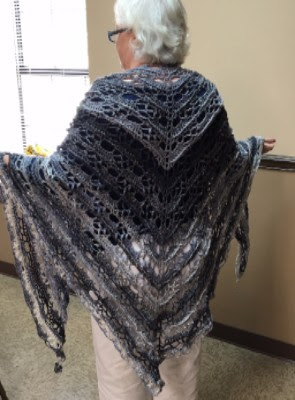 Shawl crocheted with hand-spun gradient yarn by Deanna A.
(Modeled by Sue J.)
Other Tidbits
The topic of our July 17 meeting will be Tapestry Weaving. Henry Glaus will bring a trunk show and demo this fascinating

fiber

art.

'Til next time,

-Christine


Photos taken by Christine and Jennifer C.
You are receiving this email because you expressed interest in the West Alabama
Fiber
Guild
.
Our mailing address is:
Want to change how you receive these emails?
You can
update your preferences
or
unsubscribe from this list