West Alabama
Fiber
Guild
Newsletter
- March 17, 2017
Welcome to the West Alabama

Fiber

Guild

Newsletter
Next meeting:
Sunday, March 19, 2017,

1:00 pm to 3:00 pm
Location: 1000 28th Avenue, Tuscaloosa
Topic:
Spinning Sunday
Bring any project that you would like to work on, or just come and chat. Also, bring any questions that you have about
fiber
preparation, drafting, and spindle spinning.
Our use of the meeting room on alternate Sundays from
11:00 am to 3:00 pm
through the end of April has been approved by TDOT. We also have use of the room on our regular meeting days starting at
11:00 am
for those who would like to come early.
Information from Carol T.:
I have received the registration form inviting us to participate at Kentuck. So it is now time to sign up for the $5 badges! I need the names and $5 by the end of April. Sooner is better!

Also, last year we discussed buying another EZ up tent with the 3 sides it comes with. We put the purchase on hold until we discovered our new location. Does the

guild

want me to order one now? I would like to do this ASAP if that is the wish of members.

Once I have the information on our drum carder from Henry, I will order the brush that attaches to it.
Thanks, Carol
Last meeting:
Sunday, March 5, 2017
Topic:
Spindle Spinning and Drafting
There were 14 members present. Carol showed us how to pre-draft
fiber
and the park & draft method of spindle spinning. "Respect the Spindle" by Abby Franquemont is a book that Carol recommends. Regarding spinning, Carol says, "If it stays together, it's yarn!"
Tori using her dealgan drop spindle from Maine

Fiber

Tools.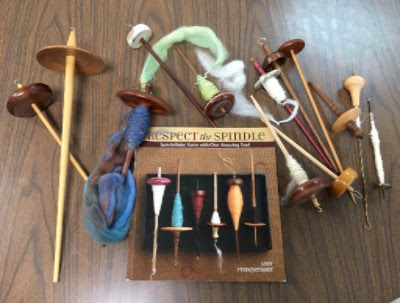 Carol's drop spindles, support spindles, taklis (two right-most, for spinning cotton), and book.
Hand knit shawl by Lynn H. Pattern: Bustle Shawl by Jen Zeyen (Free on Ravelry), and Lynn added a Feather & Fan edge.
Tatted necklaces with turtle beads by Carol T., pattern by La Cossette.
Tatted flower fobs by Christine C.
Bead-style support spindle made by TexasJeans, owned by Tori S.
Chain-plyed hand spun merino by Candice W.
Other Tidbits:
Marilyn B. is storing one of the

guild

wheels. Contact her if you wish to use it.

Our Program Schedule for 2017 was in the

February 2nd

newsletter

. Click here to see it.
'Til next time,

-Christine


Photos taken by Christine.