West Alabama
Fiber
Guild
Newsletter
- November 4, 2016
Welcome to the West Alabama

Fiber

Guild

Newsletter
Next meeting:

Sunday, November 6

, 2016

, 1:00 pm to 3:00 pm


Location: 1000 28th Avenue, Tuscaloosa
Topic:

Kumihimo
Carol will provide a demonstration of Kumihimo, a Japanese form of braid-making.
Recent Events:
Kentuck Festival of the Arts, Sat & Sun, Oct 15 & 16, 2016
Northport Heritage Days, Mon-Wed, Oct 17-19
Report from Carol T.:
Kentuck was great. We have a new location which initially displeased me as we are right by the children's playground, but is good because we have plenty of room and nice, level ground. I asked on our survey that we get the same location next year. It was VERY dusty which was not great but not any surprise. We got lots of interested folks, including a video by the Crimson White! A man took a video of me making lace which he was sending to his sister in India! We demonstrated tapestry weaving, card weaving and 8 shaft loom weaving. Several spinners (including Kristen Snow who we were glad to see), tatted and bobbin lace, crochet lace, and knitting. Big THANK you to all who participated, especially Monica who handled the sales table, and all who supported us in spirit!

Nan Glaus, Tori, and Deanna participated in the Northport Education Initiative on Monday, Tuesday and Wednesday following Kentuck which was great. A real gift to the community as it was right after Kentuck!
Our tent at Kentuck and some of the demonstrations.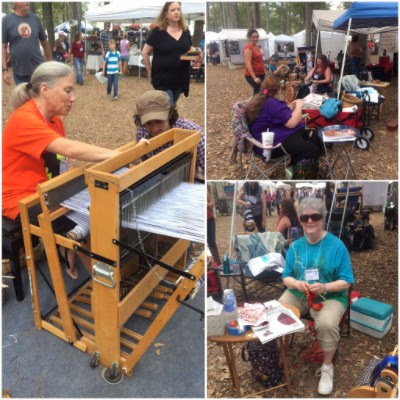 More of the demonstrations at Kentuck.
Tori's demonstration at Northport Heritage Days.
Thanks to Nan and Tori for providing the photos!
And many thanks to Carol for everything!


'Til next time,

-Christine


Photos of Kentuck provided by Nan G.
Photos of Northport Heritage Days provided by Tori S.

You are receiving this email because you expressed interest in the West Alabama

Fiber

Guild

.

Our mailing address is: